Why become a Metal Technician?
With the economic development, metal has become the major part of the materials used in modern products. Therefore, job opportunities for metal technicians are available in such diverse industries as the automotive industry, foundries, mechanical engineering and many others. This not only gives you a choice of employment opportunities until you graduate, but also gives you the opportunity to change jobs and even the industry after graduation. Experienced metal technicians can become self-employed and start their own business.
Metal technicians are involved in creating new solutions to the problems of the industry. Metal technicians manufacture and assemble parts according to technical drawings, using a variety of materials, tools, heavy machinery and techniques. Metalworkers can also assemble components or finished products based on technical drawings. Metal fabrication is highly sophisticated work. CVT aims to create a foundation by providing comprehensive training to enable you to master the task. After completing the CVT apprenticeship training, 50% to 70% of the graduates receive a pay rise or a promotion at work.
A Metal Technician knows how to
process sheets, profiles, pipes and tubes mainly made of metallic materials and produce components and assemblies according to technical drawings and work instructions.
produce devices, tools, spare parts and production parts in combination with assembling and joining work, applying the principles of work safety and environmental protection.
develop a flexible mindset and become open to innovation. In collaboration with other professionals, Metal Technician are used to working in teams and project organizations.
The corresponding vocational training for Metal Technicians at CVT is based on training and learning at the vocational school, the training company and the practical training center (PTC). The training course takes two years. Students will get a certificate as CVT Metal Technician when they pass the final exam.
After successfully completing the vocational training, several courses for further education can be attended.
Core competences of the Metal Technician:
| | |
| --- | --- |
| 1. | Working and moving safely within the workshop: Safety First principles also include fire protection, personal protective equipment, hazards caused by loads, machines, hand tools etc. |
| 2. | Testing of product quality: Know how to apply measuring tools and assess the quality of products and processes. |
| 3. | Material Knowledge: Know local materials and their shape, properties and identification features. |
| 4. | Production of workpieces: Preparation, work bench jobs, machine operation and finishing operations such as sawing, drilling, grinding, turning etc. |
| 5. | Production of assemblies: Fit and join metal parts using riveting, welding, soldering and similar techniques. |
| 6. | Maintenance and care of tools, workshop infrastructure, machines and measuring equipment. |
| 7. | Technical drawing and workshop sketches: Read and make technical drawings, sketches and work specification of simple parts. Measure and mark work pieces according to drawings or templates. |
| 8. | Communication skills: Master Myanmar language and the various forms of communication. Mastering English in a professional setting. |
| 9. | Interacting with computers: Use computers and computer systems to process information, enter data, read and write instructions, produce technical drawings. |
| 10. | Applying methodological, social and personal competences. |
Subjects
Theory
Material technology
Working technique
Technical drawing
Technical calculation
English
Basic Technical English training
Myanmar/Social Skills
Mastering of mother tongue and self-competences
Additional lessons for:
| | |
| --- | --- |
| Practical Training Course (PTC) | PTCs provide competence-oriented knowledge and guidance on how theory can be put into practice. Practical training is carried out in CVT's own workshops. |
| PTC 1 | Basic workshop practice, i.e. filing, sawing, chiseling, drilling, grinding and forging. |
| PTC 2 | Machining, welding and foundry of metal and non-metals. |
| PTC 3 | Specializing in machining and welding: turning, drilling, planning. |
The Metal Technician training program has two parts:
| Part | Desctiption |
| --- | --- |
| Intensive Introduction Course IIC | Twelve weeks, two days a week, of intensive training at school (theory and practical workshops) preparing for the apprenticeship program |
| Apprenticeship Course AC | 21 months of dual training: five days working and practicing at the training company, one day per week at the vocational school. |
The IIC gives students the necessary knowledge and skills to join the main course (AC) and successfully apply for the vocational training in a company.
The Apprenticeship Program provides the comprehensive vocational training at school and the training company to get a certificate as a CVT certified Metal Technician.
* The fees cover cost for course material, exams, diploma etc.
Course schedule Intensive Introduction Course IIC
Intensive Introduction Course IIC
Duration
12 weeks
Schedule
Friday and Sunday
Subjects
Theory, PTC, English, Myanmar/Social Skills/General Education
Admission Requirements
Minimum age 17 years
Basic Education High School Level
ID card copy, family registration copy, criminal check record
Objective
IIC Certificate CVT
Perspective
Students who have passed the IIC test are allowed to join the subsequent Apprenticeship Course.
More details
Downloads
Course schedule Apprenticeship Course (AC)
First year (Terms 1 and 2)
| | |
| --- | --- |
| Duration | 8.5 months |
| Schedule | One weekday, 9 lessons |
| Subjects | Theory, PTC, English, Myanmar/Social Skills/General Education |
| Admission Requirements | Passed IIC test (IIC Certificate) |
| Objective | Promotion to second year |
| Perspective | Promoted students are allowed to continue with the second year of the Apprenticeship Course. |
| More details | Downloads |
Second year (Term 3 and 4)
| | |
| --- | --- |
| Duration | 12 months |
| Schedule | One weekday, 9 lessons |
| Subjects | Theory, PTC, English, Myanmar/Social Skills/General Education |
| Admission Requirements | Promotion first year |
| Objective | CVT Metal Technician Diploma |
| Perspective | Access to further education program CVT, specialization courses and courses in business studies, accounting, ICT and languages |
| More details | Downloads |
Experts from Switzerland
Stefan Vogler from Kerns is an expert and responsible for the training at the CVT in Yangon. In Switzerland he works as a production manager in the department of micro systems at Leis-ter's, a company based in Sarnen. He is a professional mechanic and an industrial engineer and along with Daniel Glauser he supports the Burmese teaching staff via digital media and from time to time with a visit to Myanmar. This is not just a case of exchanging topics to do with their work, this also furthers multicultural teamwork.
"Necessity is the mother of invention! This proverb could well have its roots in a Bur-mese workshop. The creativity and inventiveness show the stifled potential in these young people." ..​
Stefan Vogler, specialist for metal workers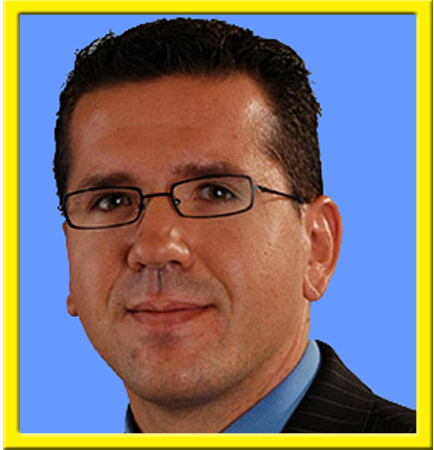 Mr. Stefan Vogler
Mr. Paul Zimmerli